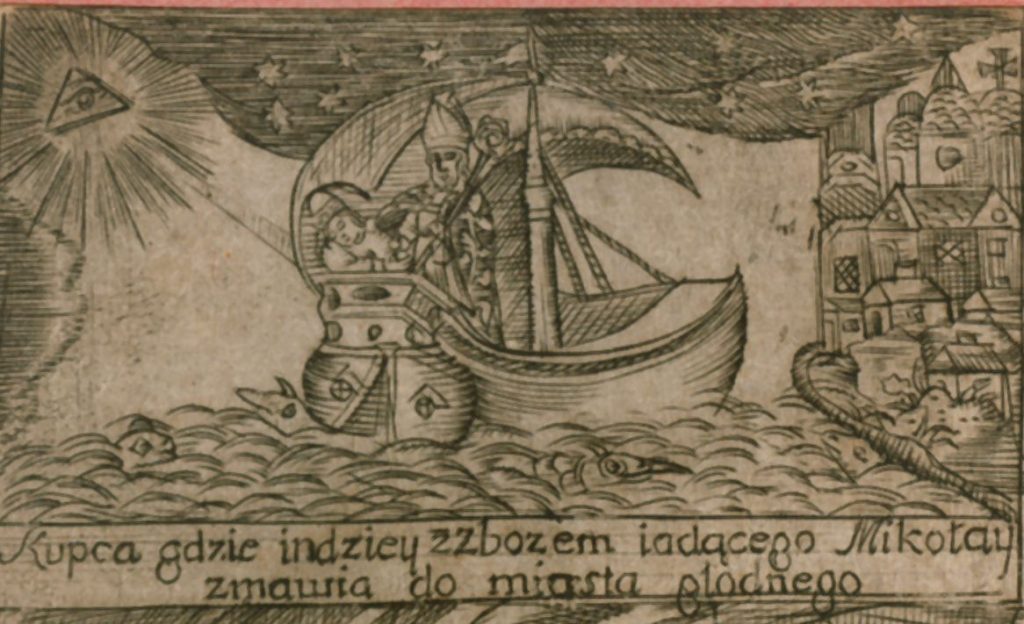 Saint Nicholas, the hardest working saint. Patron of nubiles, bakers, sailors, traders, the poor, children, pupils, and farmers…
He was the Bishop of Myra in Lycia (currently Turkey). In the XI century, the crusaders took his relic to Bari in Italy. Saint Nicholas was and is a saint venerated by both Orthodox Christians and Catholics in the west, a fact testified to by the numerous churches with his name. In Krakow, the church (from 1229) and parish (from 1327) of Saint Nicholas are among the oldest ones.
While still alive, he was known as a carer of the poor, to whom he gave all possessions, and he took care of the sick during plagues. He died in Myra between 342 and 352. He was famous for miracles from both his lifetime and after his death. In pictures, we most frequently see him as an old man with a beard in bishop's robes with a bishop's staff, holding an open book, on which lie 3 gold apples or bread rolls, with an anchor or a sack. In Poland, 6 December is celebrated as a holy day. A litany to Saint Nicholas and the Little Office of Our Lady are conducted and church songs are sung. In Krakow, "Mikołajki" biscuits were popular.
The most well-known act of Saint Nicholas was throwing three bars of gold to his neighbour as a dowry for his daughters. This noble act was the inspiration for Father Piotr Skargi to establish the so-called "Saint Nicholas Box" for dowries for the poor and chaste nubiles, in order for them not to take the wrong road because of poverty: "defending the cleanness with money, food, alms, for which payment is better than for feeding a beggar". The Fund still existed at the beginning of the XX century.
Saint Nicholas is most frequently associated as a nice old man with a beard, who brings gifts to children. In Krakow, the custom of giving children presents was already known in the middle of the XVIII century. Initially, it was the custom to place presents under pillows on the eve of the holiday (5 December). Later, a "live" Saint Nicholas, dressed in an mitre, cape (sometimes in a chasuble) with a bishop's staff in his hand, began to appear. He was accompanied by an angel and a devil in a red-black costume with a face mask.
Currently, Saint Nicholas brings presents during the night and morning of 6 December. For unknown reasons, he moved from the warm south to the frosty north, changed his bishop's robes for a red gown and began to bring presents on Christmas Eve.
Go to gallery