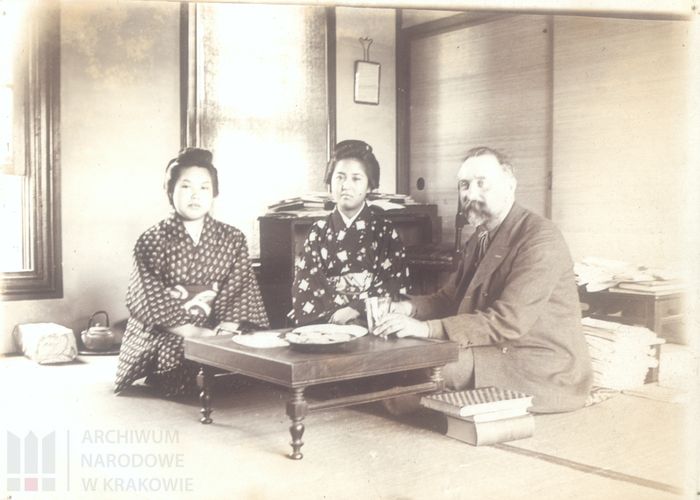 On 19 October 2013 in Shiraoi-cho on Hokkaido, in the presence of the Minister of Culture and National Heritage of the Republic of Poland, a statue of Bronislaw Pilsudski was unveiled, followed by a two-day seminar dedicated to the relationship between B. Piłsudski and Japan.
Bronisław Piłsudski (1866–1918), brother of the Marshall of the Republic of Poland, is less well-known and discussed than his brother, however, he was a figure combining acts of independence and scientific life. His ethnographic research is recognized and valued by ethnographers all over the world even today.
B. Piłsudski is an example that even in the most unfavourable environments, it is possible to find a passion in life. Aged 21, Bronisław arrived on Sakhalin with a sentence of 15 years' imprisonment for his participation in the preparation of the assassination attempt on Tsar Alexander III. It was there that he met and became friendly with the Nivkhs, inhabitants of the severe country. He researched and described their lives, customs, surroundings and culture. When, in 1896, due to an amnesty, he was granted settlers rights, he continued to work as a teacher, and after his sentence was reduced, he left Sakhalin. However, one condition of his release was a ban on his return to Europe, that's why in March 1899, on the invitation of the Amur Oblast Region Research Society (Branch of the Russian Geographical Society), he took up the position of museum curator in Vladivostok and was, among others, the co-author of an exhibition prepared for the world exhibition in Paris in 1900. Two years later, as a representative of the Tsarist Academy of Science in Saint Petersburg, he returned to Sakhalin to research the Ainu culture. He also married Chuhsamma – a women from the ethnic group. He carried out a wide range of ethnographic research travelling on the island of Hokkaido, and also visited the region of Lower Amur – the land of the Tungusic tribes of the Ulch and Nani. In 1905, he returned to Vladivostok, from where he managed to travel to Japan. Piłsudski arrived in Japan in January 1906. His seven-month stay in Japan was a time of intensive meetings and cooperation with the Japanese and Chinese left-wing, as well as contacts with representatives of the right-wing, and the start of the Japanese-Polish Society established by Piłsudski and Shimei Futabatei, a Japanese journalist and translator of Russian literature. During his stay, B. Piłsudski travelled around Japan visiting many cities: Hakodate, Kobe, Tokyo, Yokohama and Nagasaki. In his circles, we can meet both political figures and those from science and culture: Russian and Chinese revolutionists, Japanese politicians from every group, writers and journalists, teachers, musicians and scientists. His scientific and political activity obtained recognition in Japan.
In August 1906 he returned to Europe through America, and, after a short stay in London and Paris, he first lived in Krakow, and then in Zakopane. Here, however, his achievements and research interests were not recognized. Piłsudski, despite difficulties, continued his scientific work, concentrating not only on peoples of the Far East, but also those of Podhale. During the First World War he was involved in the independence movement, travelled around Europe, and led the Polish-Lithuanian committee for the help of war victims in Lithuania. He cooperated with the editorial team of "Encyclopedie Polonaise" in Rapperswil, and maintained contact with Ignacy Paderewski and Roman Dmowski. At the end of the war, he moved to Paris, where he worked in the Polish National Committee established by Dmowski. On 21 May 1918 in Paris, he died tragically (probably suffering from deep depression, he committed suicide).
In the National Archives in Krakow, there is a collection of photographs and letters connected with Bronisław Piłsudski (1866–1918). The file of documents arrived in Krakow's Archives together with the records of the National Supervisory Committee, which B. Piłsudski cooperated with. The cluster of documents, press cuttings and photographs from the beginning of the XX century contains, besides political materials, photographs and postcards connected with the stay of B. Piłsudski in Japan (ref. no. 29/645/435). These include a photograph of Piłsudski together with his Japanese hosts and photographic portraits given to Piłsudski with friendly dedications, including a fragment of Japanese poetry. On the 95th anniversary of his death and on the occasion of the unveiling of his statue in Shiraoi-cho on Hokkaido, we would like to present them to you.
Go to gallery